10 super summer shrubs: fragrance, intriguing blossoms, color even bird and butterfly appeal (1)
Spring-blooming shrubs put on a great opening act, but summer shrubs steal the show. Their strong U silhouettes add balance, mass, and scattered shade as they link trees and larger woody plants with smaller flowers, vines, and ground covers. They enhance the garden's dynamic swirl of colorful annuals and perennials. Here are our favorites, with their distinctive benefits.
Heavenly Blue
BLUEBEARD, AKA BLUE MIST
(Caryopteris x clandonensis)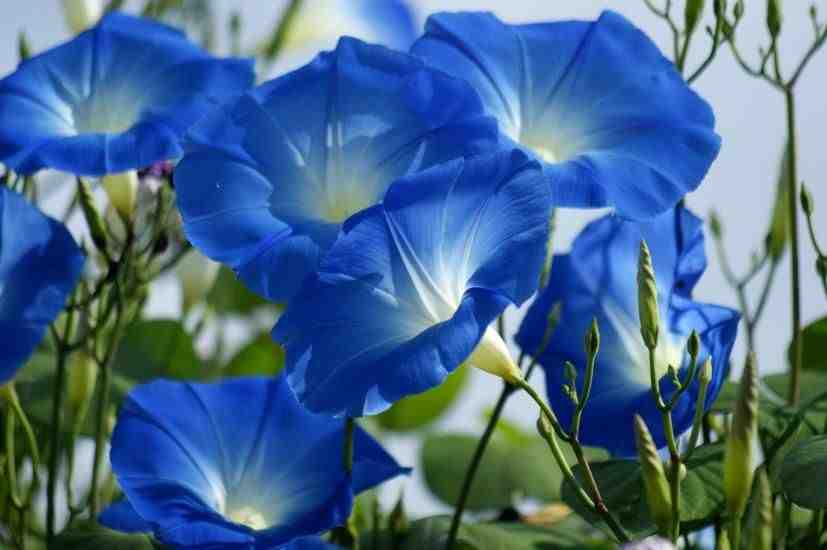 This Asian native is well settled into American life. Birds and butterflies love it, bees buzz it so vigorously that you can hear them clearly, and it makes a great cut flower.
Bluebeard never flinches at summer heat and humidity, doesn't tempt deer, and manages with less than ideal rainfall. However, it can be short-lived; after 4 or 5 years, it may need replacement, but in the meantime, it's well worth having. Bluebeard forms a low, fine-textured mound of intensely blue flowers in airy clusters on spreading branches. 'Kew Blue' has deep violet-blue flowers while newcomer 'Sapphire Surf' is amazing in mass plantings. Its leaves are aromatic and, on some cultivars, such as 'Worcester Gold', variegated. Cut it back in late winter or early spring for strong, dense growth.
Growth: 2 to 4 feet tall
Conditions: full sun to partial shade and well-drained soil
Hardy: Zones 5 to 9
Fast-growing Butterfly Magnet
BUTTERFLY Bush (Buddleia David)
Who doesn't love birds and butterflies? In its native China, butterfly bush is called summer lilac. It's tiny blossoms, tempting to both butterflies and hummingbirds, are lilac like in purple, lavender, blue, pink, yellow, and white and deliciously fragrant. Try 'Black Knight', one of the darkest in color, compact 'Peacock', or 'White Profusion'.
Happily, butterfly bushes bloom long and late, especially if you pinch old flower clusters as they start to fade. In cooler regions, cut the whole plant to the ground in late autumn or early spring. Buddleia sprouts in spring and grows vigorously, producing flowers on new shoots. Growth: to 10 feet tall or more Conditions: full sun and well-drained, rich, but not heavy, soil Hardy: Zones 5 to 9
Powerful Fragrance
CAROLINA ALLSPICE, AKA SWEETSHRUB OR STRAWBERRY SHRUB
(Calycanthus floridus)
Native to the Alleghenies, this uncommon but fragrant, hardy shrub is an underused gem. It produces deep reddish-purple-brown, strawberry-scented flowers up to 2 inches across in summer. Leathery, dark green leaves smell of spice when crushed and become golden yellow in fall. It's a tough, low-care plant, resistant to disease and insects, and needs little pruning–but you must keep suckers under control.
Growth: 4 to 8 feet tall
Conditions: partial shade (best) to full sun and rich, sandy loam
hardy: Zones 4 to 9
Snowy Splendor
Hydrangea (Hydrangea spp.)
The queen of the late-summer garden, hydrangea stars in various species. All are extremely showy, and their long-lasting blossoms provide months of color. The top three–H. paniculate,
H. macrophilia, and H. quercin folia relish similar growing conditions.
H. paniculate is the easiest to grow. It's a rugged shrub with bold, fluffy clusters of white flowers that fade to pink and green. It blooms on buds produced the previous year. Many cultivars, such as 'Tardiva', can be successfully trained into a standard form–perfect for a large container or just about any landscape spot.
The flower color of bigleaf hydrangea, H. macrophilia, famously depends on the character of your garden soil. Blossom's are pink in neutral to slightly alkaline soil and blue in acidic soil. Then there's white 'Wedding Gown', also known as 'Dancing Snow', introduced in North America just a few years ago. While most H. macrophilia flower on branches from the preceding year, reblooming varieties such as 'Endless Summer' flower on both old and new growth. This ensures lots of blooms throughout the summer.
Oakleaf hydrangea, H. quercin folia, produces clusters of white flowers that turn pink. It blooms on old wood. Cut one-fourth to the ground every 2 or 3 years to reduce crowding.
Growth: to 5 feet tall, some varieties more compact; H. paniculate to over 10 feet tall
Conditions: partial shade and moist yet well-drained soil
Hardy: Zones 4 to 9
Foolproof Long Bloomer
POTENTILLA, AKA SHRUBBY CINQUEFOIL (Potentilla fruticose)
Bring the sunshine to your garden with this compact, long-lived, water-thrifty native, one of the very easiest shrubs to grow. It blooms from late spring through autumn, bearing a profusion of radiant, buttercup-like yellow flowers that attract butterflies. Cultivate bloom in white, pink, peach, orange, or red. Its foliage is dark yellow-green and finely textured, and it blooms on new wood. Worthy cultivars are 'Primrose Beauty', 'Pink Beauty', and 'Coronation Triumph'. It can be massed or used as a low hedge.
Growth: I to 3 feet tall
Conditions: full sun (best) to partial shade in well-drained soil (native in both bogs and dry areas)
Hardy: Zones 2 to 7